Latest News
OUT NOW! The new album "WHO IS IN?"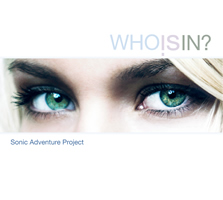 Check out this feature on the Austrian lifestyle blog Gastro News .wien (German language only)
The "A New Morning" video is now available on YouTube!
The album "Who Is In?" spent 2 weeks in the Top 40 CMJ RPM charts with over 100 radio stations having several tracks on rotation.
The new album "Who Is In?" has had a successful debut in US College Radio, coming in at # 3 in the CMJ (College Music Journal) RPM Adds Charts, with 33 stations adding it to their playlists.
"Who Is In" is Album of the Month on Electronicmusicguide.com (January 2012)
"Haze" - the starting track of the new album - will be part of the "Le Voyage Abstrait Deluxe 2" compilation. Compiled by Raphael Marionneau. To be released by Soundcolours in January 2012.
"Double Helix" will be on the compilation "La Catharsis - Sixième Edition". (Label: Catharsis, 12.01.12)


The Sonic Adventure Project received a nomination for the eWorld Music Awards 2011!
The brandnew track "Sundown Dance" was released on the compilation "Cosmic Chill Lounge V"
(Sine Music).
The song "Inner Journey" was licensed for the motion picture "Solitary Man", starring Michael Douglas, Susan Sarandon and Danny DeVito.


"Hollow (Sine Remix)" was nominated for the Hollywood Music in Media Awards 2010!
The track "Hollow (Sine Remix)" is part of the "Bar Lounge Classics Edition 1/2010".